Nothing is as it appears in S7F1 "Oracle".
The episode begins - unprecedentedly for the series - with Shaun Evans breaking the fourth wall. ...or is it Endeavour's voice? We're never quite given a clear position
vis-à-vis
the story. One or the other? Real or pretend? Bluff... or double bluff?
It's December 1969. Endeavour is on a "fortnight's leave" - in Venice. New Year's eve finds him at the opera; he is, in fact, physically present in the very space that he used so often to escape from reality. It's the other side of the looking glass: with its old buildings and cobbled streets, canals and boats, Venice is open-sea mirror to Endeavour's landlocked home. Even Oxford's most famous landmark - the Bridge of Sighs - is here, Oxford's being the secondary version in this case...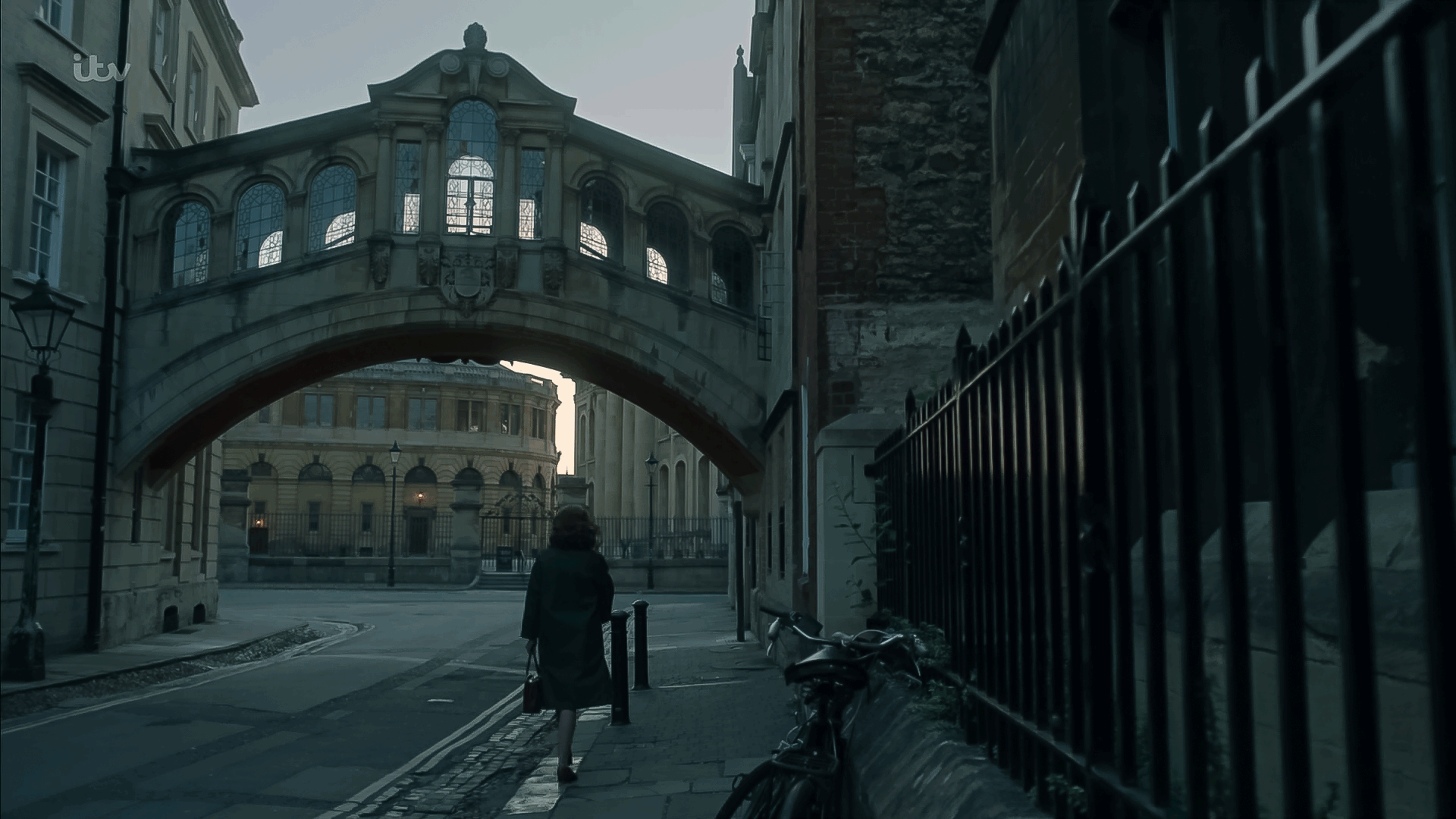 On December 27th, Endeavour sends a card to Fred Thursday - to wish "Sir" and "the family" a happy new year. The picture on the card's face (not shown) is the Rialto bridge (seen onscreen) that looks much more like Oxford's Bridge of Sighs on New College Lane than its Venetian namesake... only the name of the one in Oxford is, in fact, Hertford Bridge, and it was never intended to be a replica of the original Ponte de i Sospiri. "Bridge of sighs" - sounds romantic, doesn't it? No. Ponte de i Sospiri was a walkway leading prisoners to Palazzo Ducale's trial rooms, where their destiny was to be decided, and bringing them back to their cells at Prigioni Nuove.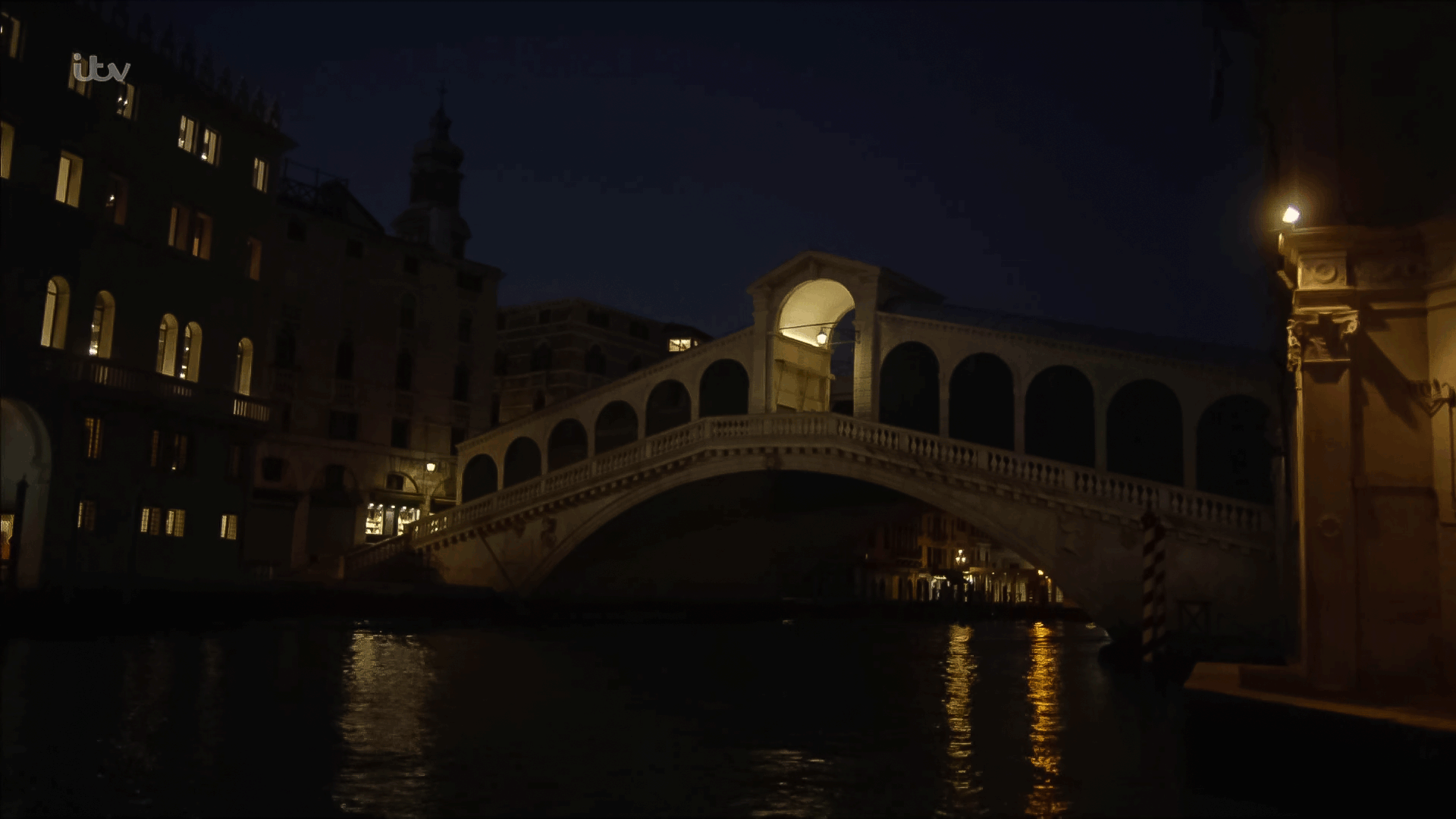 ...the opera being performed is a
double fake
. It looks like one of Morse's beloved Italian ones, but it isn't; it's
La Cura D'Amore
, a pastiche written specifically for "Endeavour" by Matthew Slater to a libretto by Russell Lewis.
La Cura
appears to be the actual title of the opera that we hear and see, but when Endeavour walks into the opera house, he is there for - nota bene -
La Sposa del Demonio
. Oh, and it's set in Venice.
"I remember having my head in my hands looking at a few lines of script that indicated an opera was to be written for this forthcoming series. In the end it was turned into over 100 lines of libretto and three acts. That single paragraph became 30 minutes of music, an opera Russell Lewis and I had written two weeks earlier, but which sounded like it could have been from 1850." - Matthew Slater, composer
So then, as the year
begins
, we get a glimpse of our double-fake opera's tragic
finale
: the heroine utters her last words and dies, apparently of a grievous wound to the chest.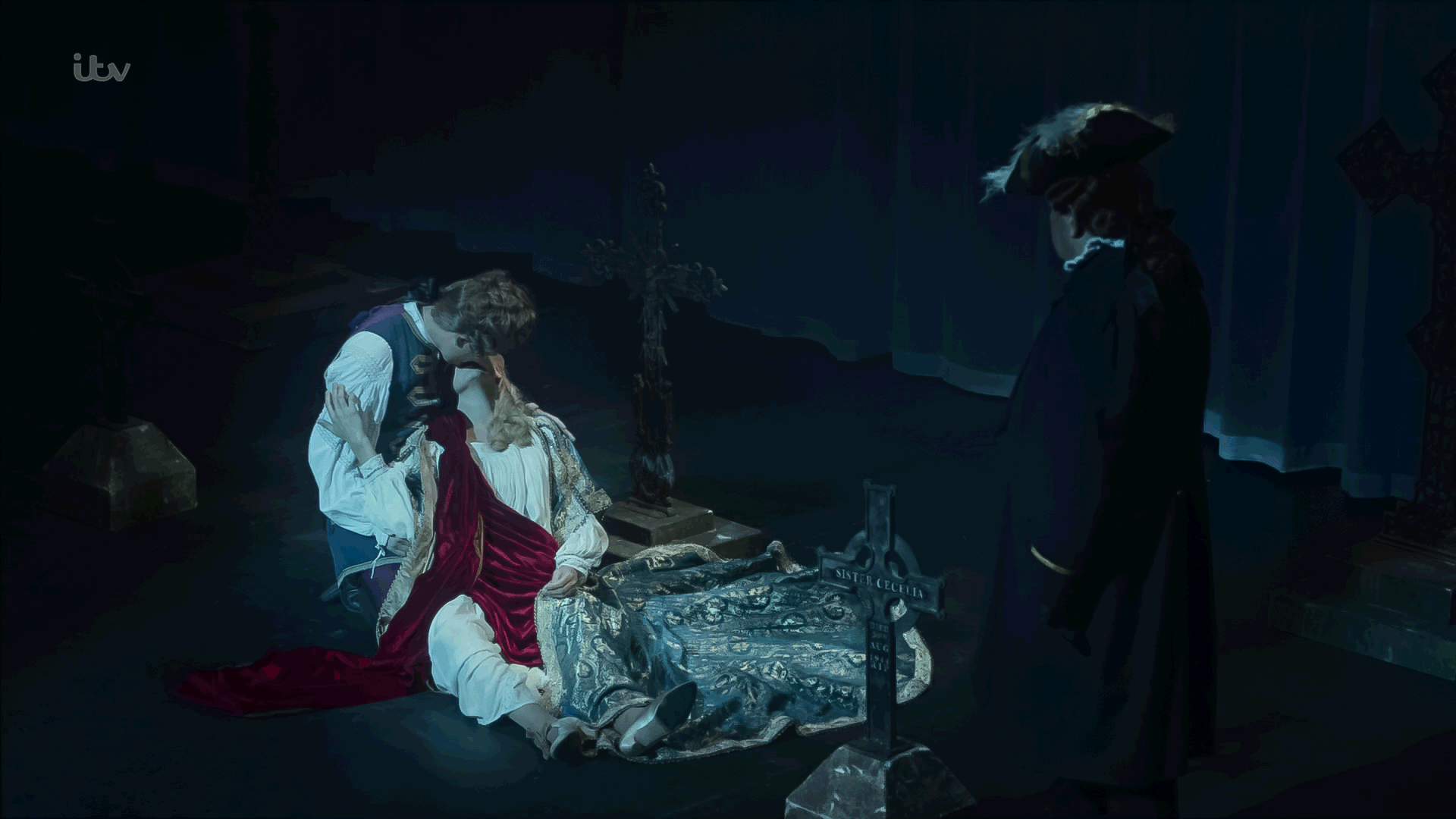 A double bluff is an attempt to deceive someone by telling them exactly what you intend to do when you know that they will assume you are lying.
This means, potentially, that the first thing of obvious fiction we're shown - the death of the heroine in the arms of her lover - will be exactly how our three-part opera of a season ends. "Oracle" opens with two shots: Endeavour loading a gun - and Endeavour, his shirt bloody, in what appears to be an interrogation room... in Italy.
Sighs
.
Back to the opera. Morse notices a woman in the audience and experiences, seemingly, a rather profound "this is it" moment. Just as he is following her down the corridor of the opera house, in (the parallel reality of) Oxford, a young woman walking down a towpath is being followed by a dark figure of a (whistling) stranger. Both women are wearing green; their hairdos are similar; their earrings are similar; both wear a necklace. It's a bona fide doppelganger shot, down to synchronous turning of heads - Violetta turns to see Endeavour, Molly Andrews - to see her killer.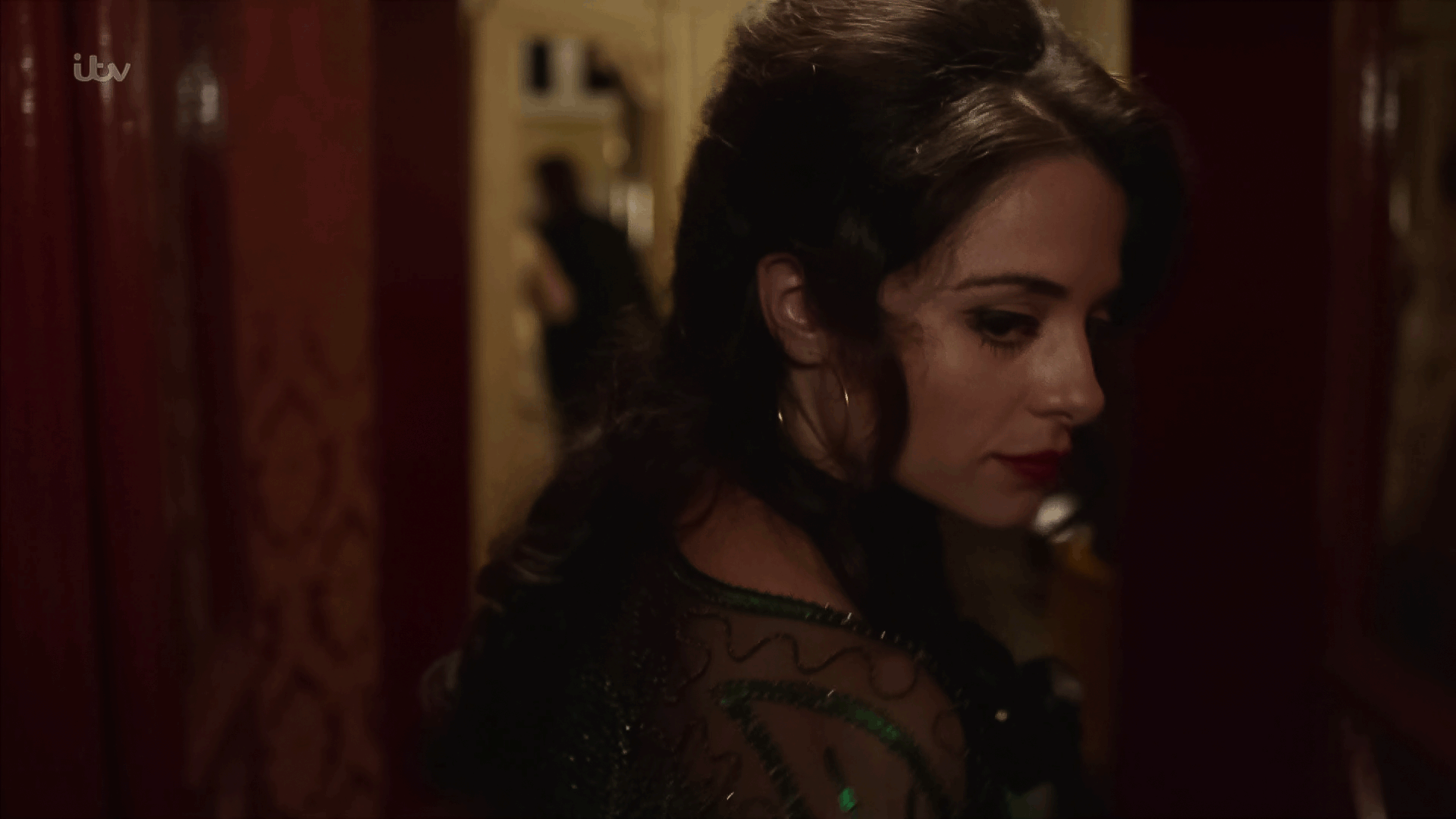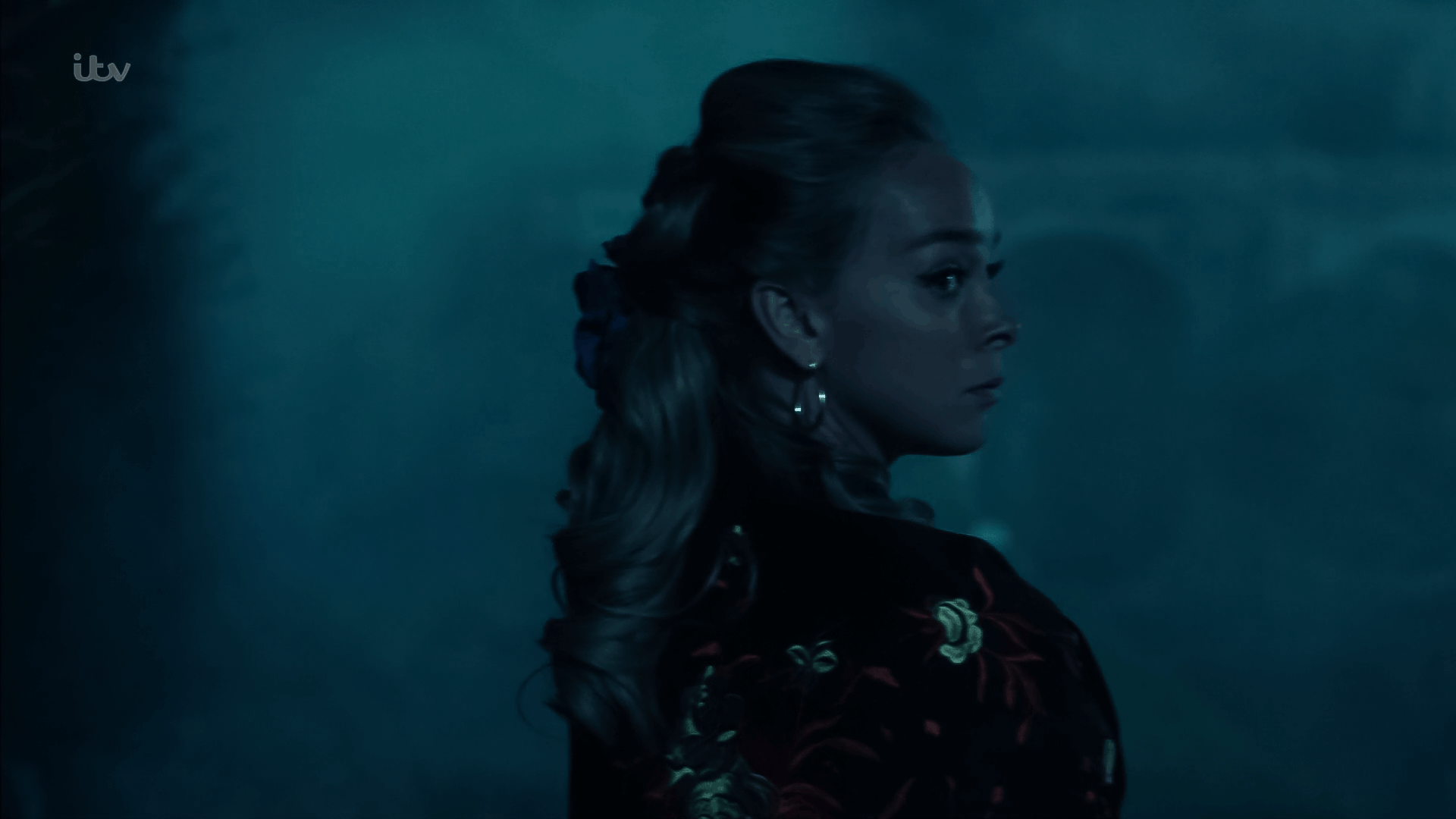 As the towpath girl is being killed - we don't see exactly how - Endeavour and his new acquaintance cover the distance from a first look to a passionate kiss; we don't see exactly how. (When Endeavour stops to draw air, Violetta clearly continues the conversation that we haven't heard. Endeavour isn't asking anything nor attempting to, but she insists: "I said, no questions". He tried, presumably.)
As Endeavour wakes up the morning of January 1st, 1970, and blissfully watches his sleeping lover, his gaze lingers on pulsing carotid on her delicate neck - and on her necklace. A
necklace
: there is one in the towpath murder story, too (now, like Molly's life, absent, having left ghastly marks on a dead neck), and one elsewhere...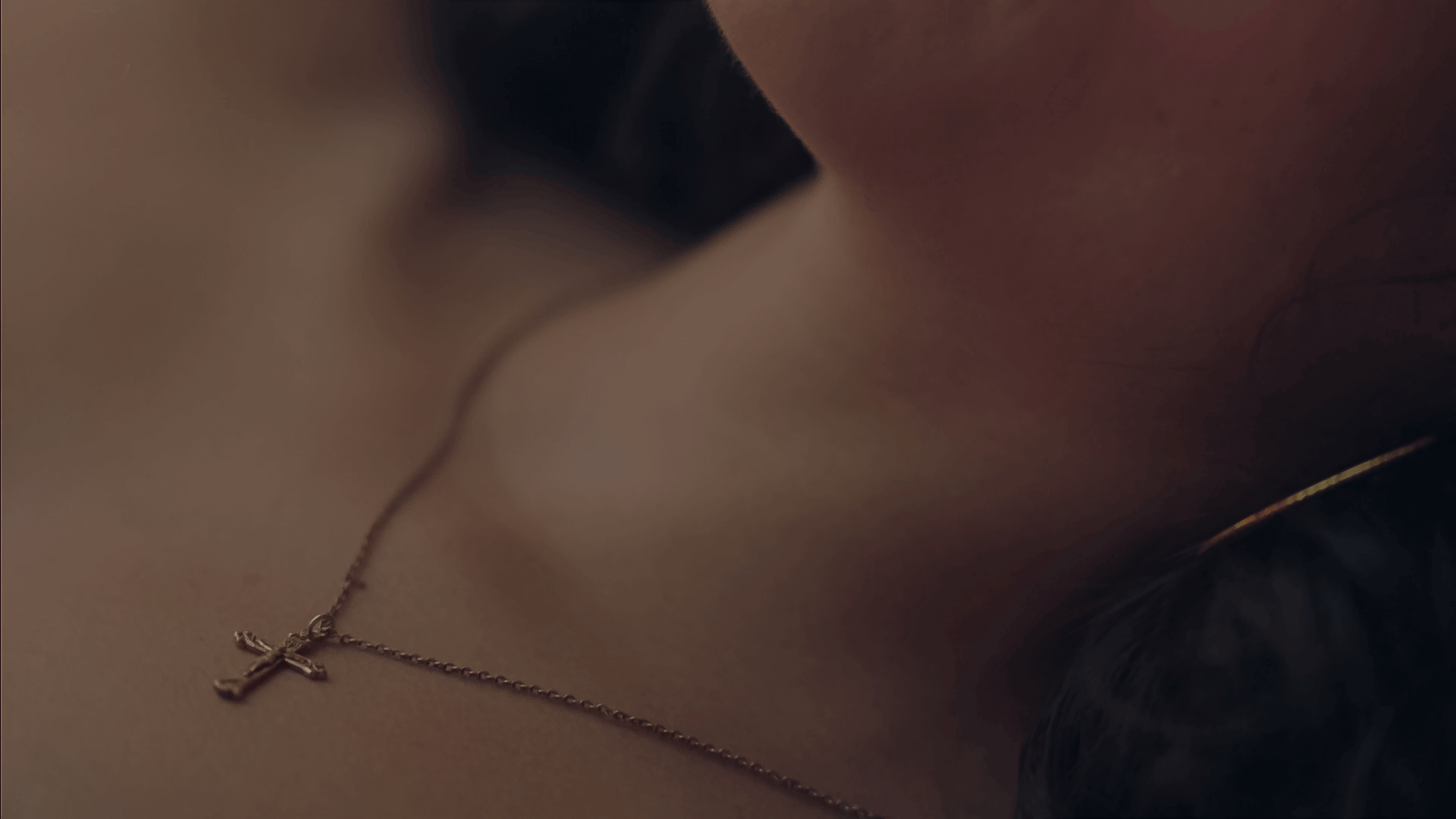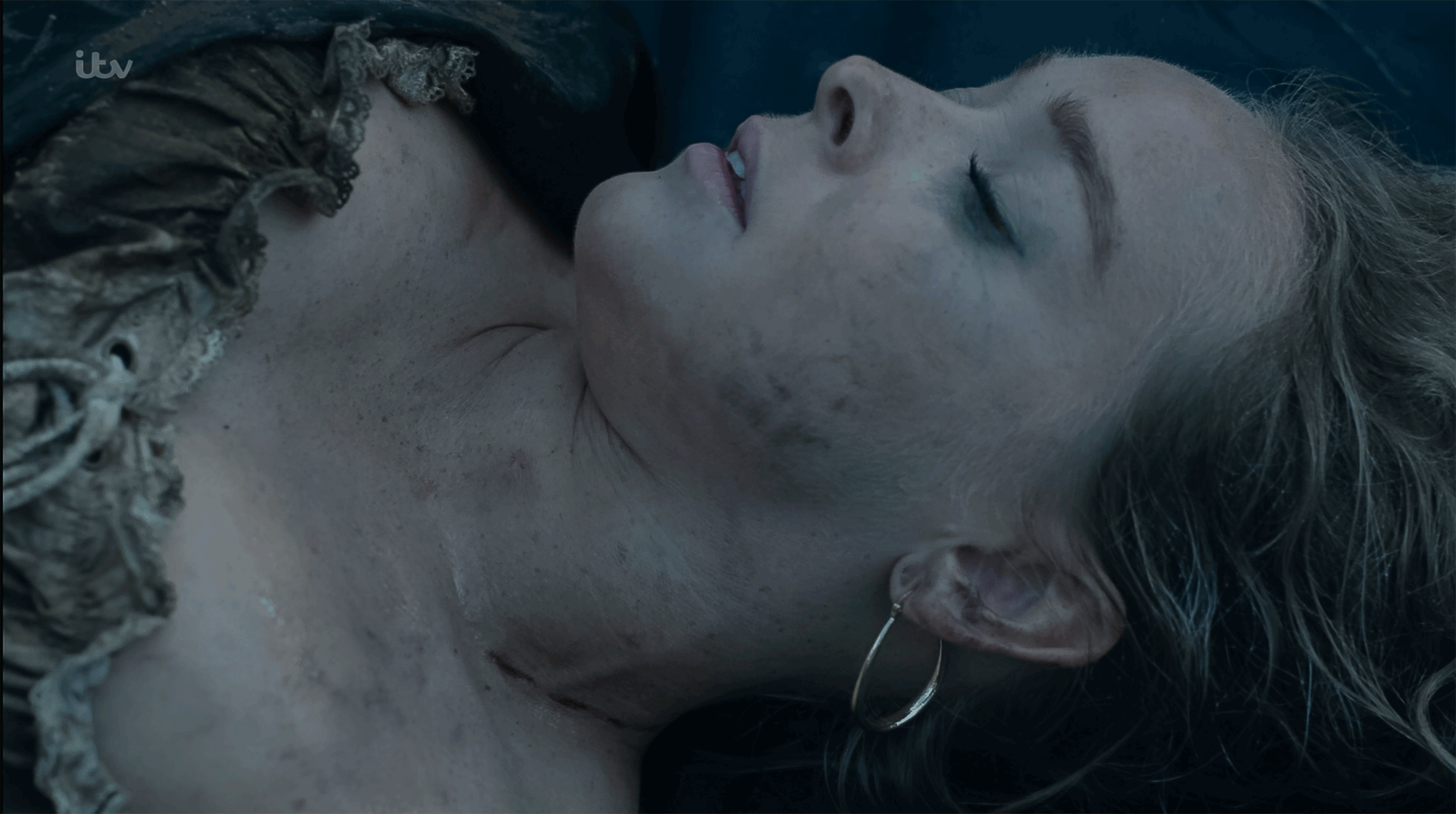 * * *
Although the events of the episode are presented in ways that seem to leave little to doubt, once you look a little closer...
n'est pas une pipe
. Nothing seems unusual in Endeavour's Venetian adventure - by chance, he meets a woman at the opera, mutual attraction is found, short happiness is lived and soon followed by standard-issue heartbreak. Case closed.
...or is it.
As Endeavour follows Violetta down a corridor,
she
is the one to turn around and give him a very well articulated iteration of - his own weapon - male gaze.
She
is the one who commands him to ask no questions, while reversing the expected setup of the scene, in which a male is active and giving and female is passive and receiving.
She
buys an (artificial) rose from a passing peddler - an action strictly reserved for men - deftly asserting a rhetorical dominance while she's at it.
She
takes Endeavour's hand, inverted to expose the vulnerable, tender wrist for her to caress.
She
is the one who sleeps while he looks on, overwhelmed with tenderness.
She
is the one to disappear with no explanation (Endeavour doesn't cry, but performs a pantomime of crying - with exaggerated, operatic gestures).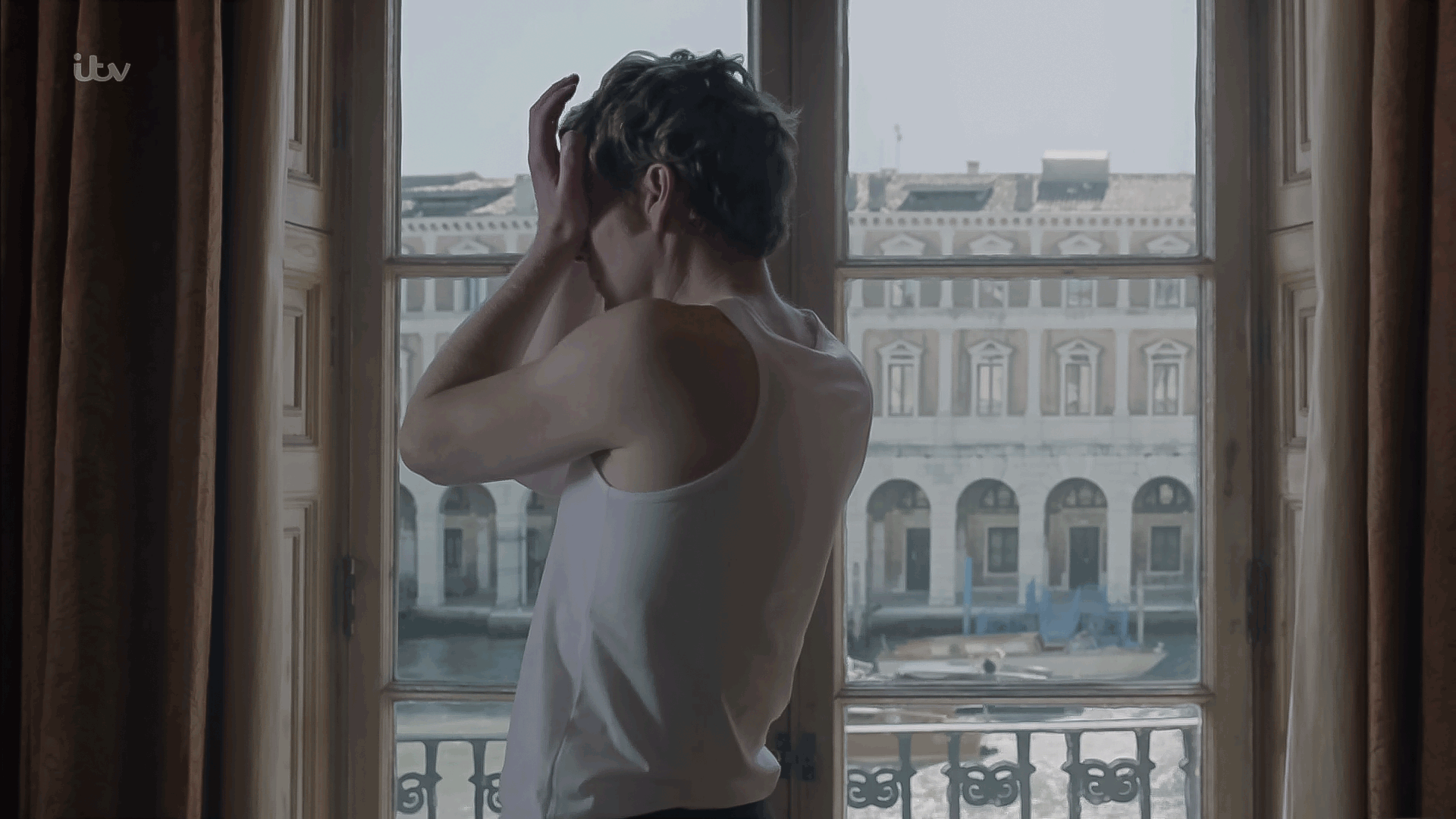 A gender-role excursion if ever there was one.
No soul is truly gendered; it's the circumstances, the appearances and the artificial dichotomies that define our perception - both of ourselves and of others. This is also the theme of the episode's storyline that deals with the perception of women in academia and in the society at large.
Endeavour's feminine side is like an artery pulsing just under the skin - critically important to his personality, and critically vulnerable. One only has to know where to strike.
We're free, of course, to embrace the magic of chance, but the mathematical probability of meeting a woman from Oxford in Venice, specifically at the opera, on New Year's eve, alone, and willing to engage with a stranger immediately, is close enough to zero to be considered negligible.
N'est pas une pipe
, or it would be poor storytelling. The situation is clearly artificial, and has set the scene for an equally non-accidental second act.
And indeed. Back home, Endeavour makes what seems like a serendipitous acquaintance with a man named Ludo - only, again, it's a little too serendipitous to be taken for face value. Ludo in Latin is
"I play"
. We're
on stage
, and not all of those present are aware of the fact: Endeavour certainly isn't.
While at a private concert, enjoying the music and reminiscing of Violetta, Endeavour gets robbed of his wallet by a pickpocket, although one would be a highly implausible presence at an event like this. It is, again, a set-up, but it's also symbolic; a wallet is as much a container for money as it is one for its owner's identity (although taking a person's money away is also an excellent way to render them vulnerable). As soon as he realises what happened, Endeavour gives chase but is, again very implausibly, thwarted - knocked to the ground by a passing cyclist on an otherwise empty street.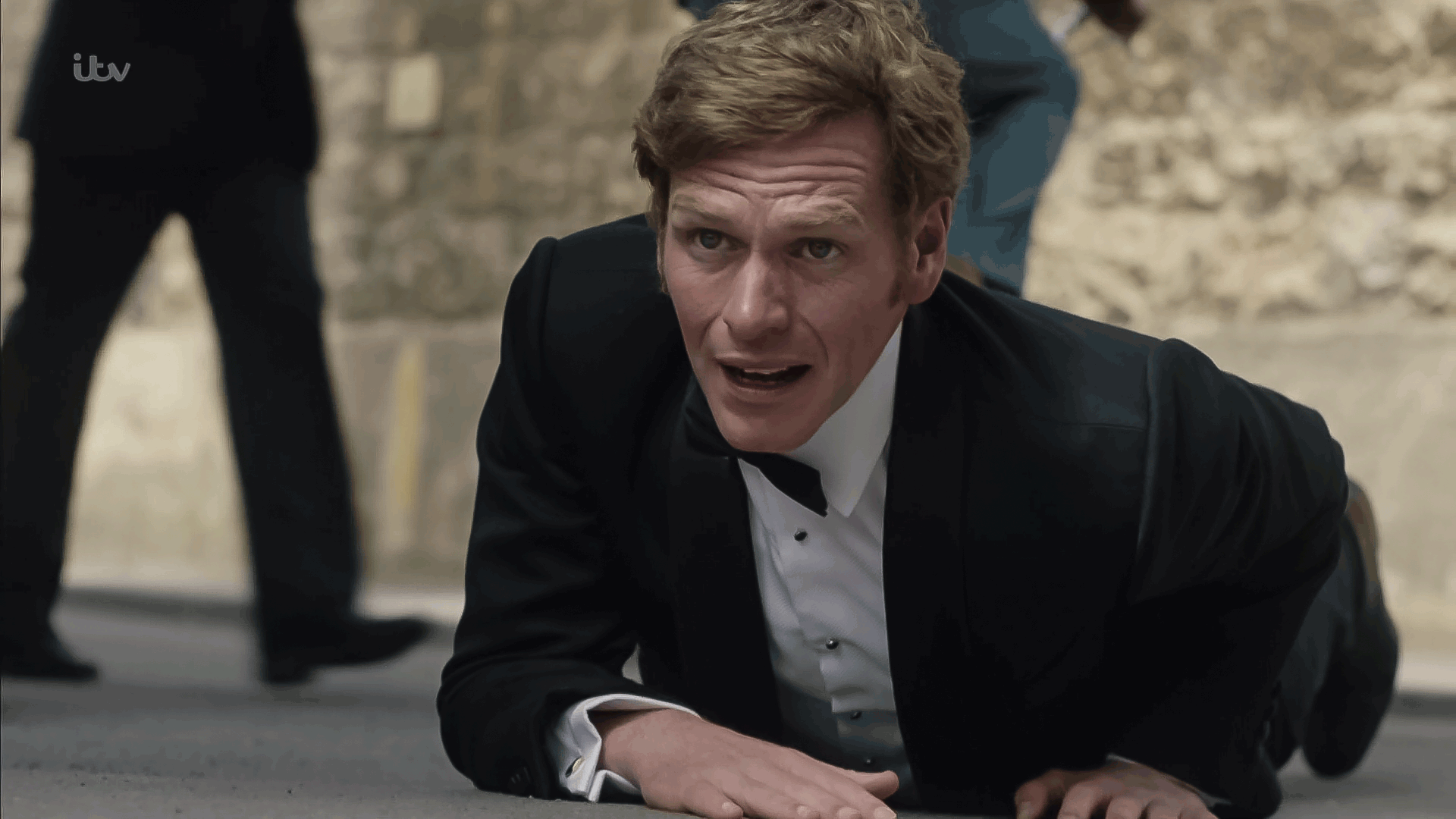 As Endeavour lies on the pavement, in pain and without agency, a tall dark stranger appears - once more, a little too serendipitously - to
save
our... well,
damsel in distress
. The stranger swiftly takes to establishing trust: he claims they were at the university at about the same time; Endeavour can't remember him (exceedingly unlikely), but the man uses a simple psychological hook to create a "false memory" of a common background by pretending that the name of Endeavour's college is just on the tip of his tongue... and Endeavour obediently offers up, "Lonsdale". Ah, but of course!
They have never met before.
...and so the courtship begins. Endeavour is taken to dinner. With no money, he cannot pay for himself; being paid for is a vulnerability and - it's 1970, remember - a perceived privilege of the "fairer sex". Ludo knows exactly what he is doing: if one were to mentally replace Endeavour with a woman, nothing in the conversation would look or sound amiss. Endeavour is visibly taken and is almost entirely off-guard - smiling, blushing, lowering his eyes and twirling his glass, weakly protesting offers of more wine.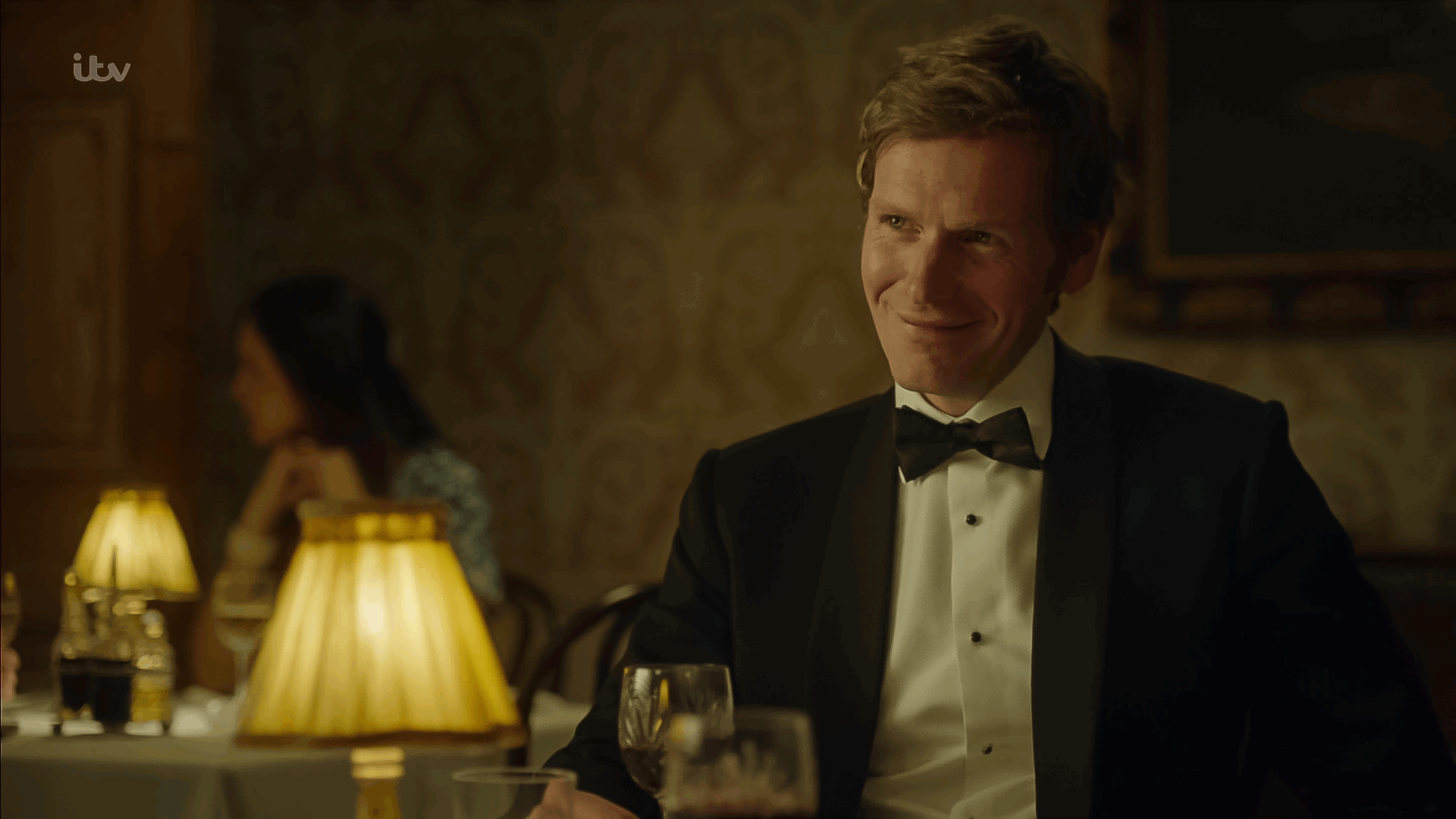 By plot points and visual cues offered to us, Ludo and Violetta are iterations of the same entity. They look alike, talk alike, wear flamboyant clothing with prevalence of red, and
treat Endeavour alike
.
Look at the dialogue:
L: My family's in shipping. Since before Vasco da Gama. I look after the various arms of our charitable foundation. I buy and sell beautiful things. Artwork. I have a music festival. And you?
E: Oh, nothing quite so interesting. I'm a policeman.
[...]
L: But you seem a man of refinement. Of great taste. Not at all a lumpen, plodding, petty official. Ah, I've offended you. I meant, of course, those policemen not in England.
Oh, this is expertly done. First music, a tender hook (at his appearance, Ludo also declares his "connection" to the concert). Then a quick caress and a painful jab in one:
you only seem what you want to be, you seem my equal, but you are not what you seem.
, followed by apology that isn't an apology at all.
For comparison: during the cafe scene in Venice, Violetta, too, makes a point of insulting Endeavour - (not very) subtly.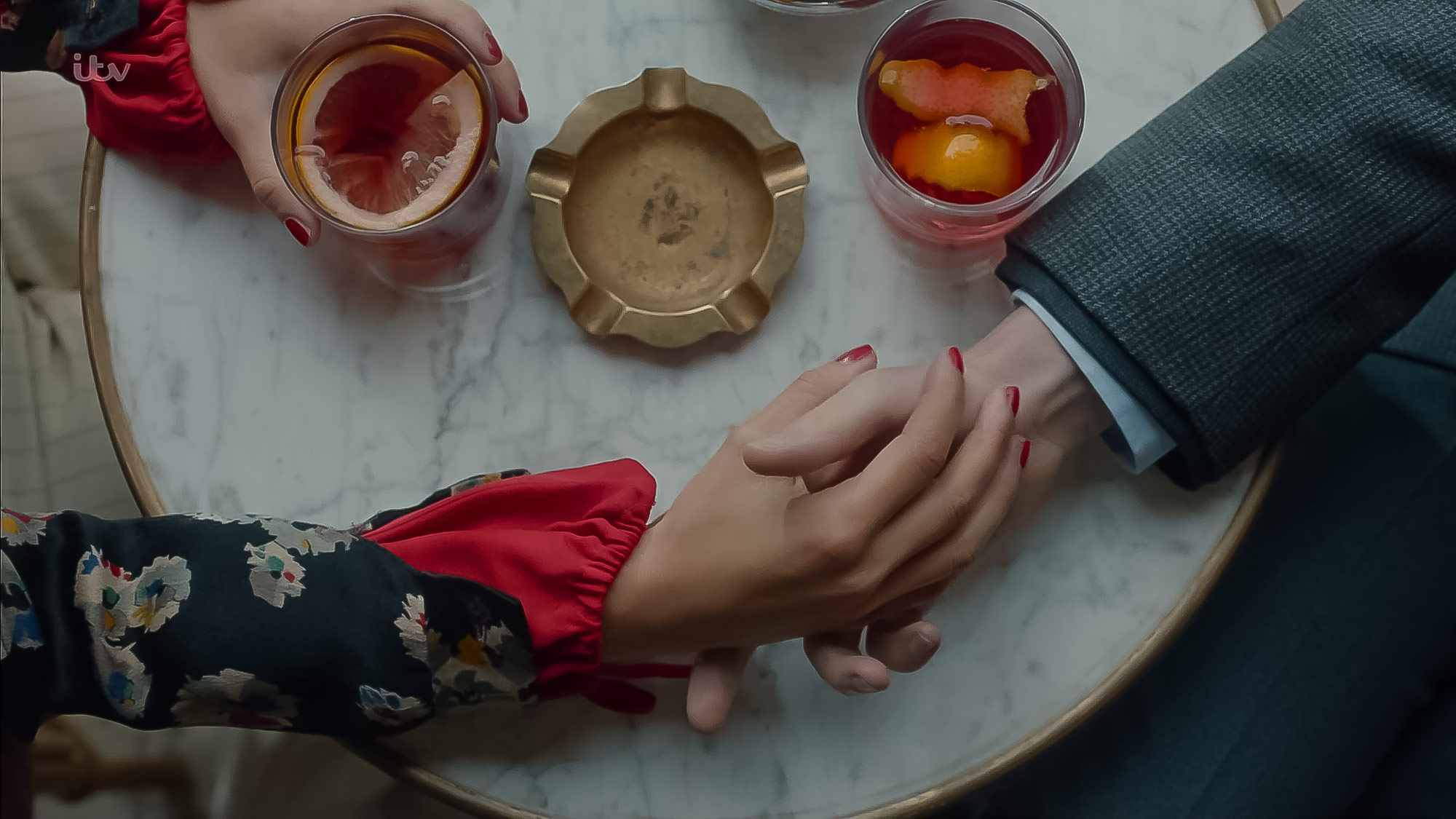 'Fiore per la signora?'
E: Oh, no, grazie.
V: Si! Avaro! Come se dice - cheap!
E: Discerning.
[...]
E: If you want a rose, I'll get you a rose. I just won't waste money on this artificial rubbish.
V: It will never fade. Never die.
E: Yeah, but it's not real.
V: Michelangelo's David isn't David. "Ceci n'est pas une pipe." If it's beautiful, does it matter?
Back to Ludo:
L: So, you will know the border officials and provincial policemen are one of two types. The dull, everything-by-the book sort - and those who understand the only international language worth a damn. Which type are you?
E: The former. Definitely.
L: Incorruptible? Is that it?
E: That's right.
L: Every man has his price.
Pleasantries removed:
You are a provincial policeman - the dull, everything-by-the-book type. But no matter how good you think you are, you will sell yourself - if the price is right.
And now Ludo's audacious double bluff:
L: I shall make it my life's business to find [your price]. And once I have found your weakness, I shall exploit it without mercy to my own ends.
E: And what is that?
L: I shall think of something.
This is a story about love.
Looks like something - presumably, Violetta - has already been "thought of", and more.
E: And what about you? What's your weakness?
L: My weakness? My weakness left me.
E: Ah I see. I'm sorry.
Another emotional hook, and one that'll be used again, with success: a declaration of shared weakness and pain.
We be of one blood, ye and I...
It works. Morse is smitten; Ludo's unctuous manner fails to put him on guard. Old trap: turning a blind eye to danger in exchange for a need (or, as it appears, needs) being met.
Later, Ludo appears - unnecessarily, without warning and in blood-red clothes - at Endeavour's door. Endeavour is in dirty overalls and an old shirt - with his neck, tellingly, completely exposed. Not exactly the attire for a social occasion: he's been stripping old wallpaper from the walls of the house, ruminating on the towpath case, and drinking. Ludo's visit seems like a show of care and warm camaraderie, but is in fact an intrusion into Endeavour's private space - made happen, very cleverly, by gently forcing Endeavour's own hand. He's taken aback a little, but of course he allows the guest in. Of course he accepts a gift. What we
do
without an obvious pressure automatically becomes
our
doing - even if it's, in fact, someone else's.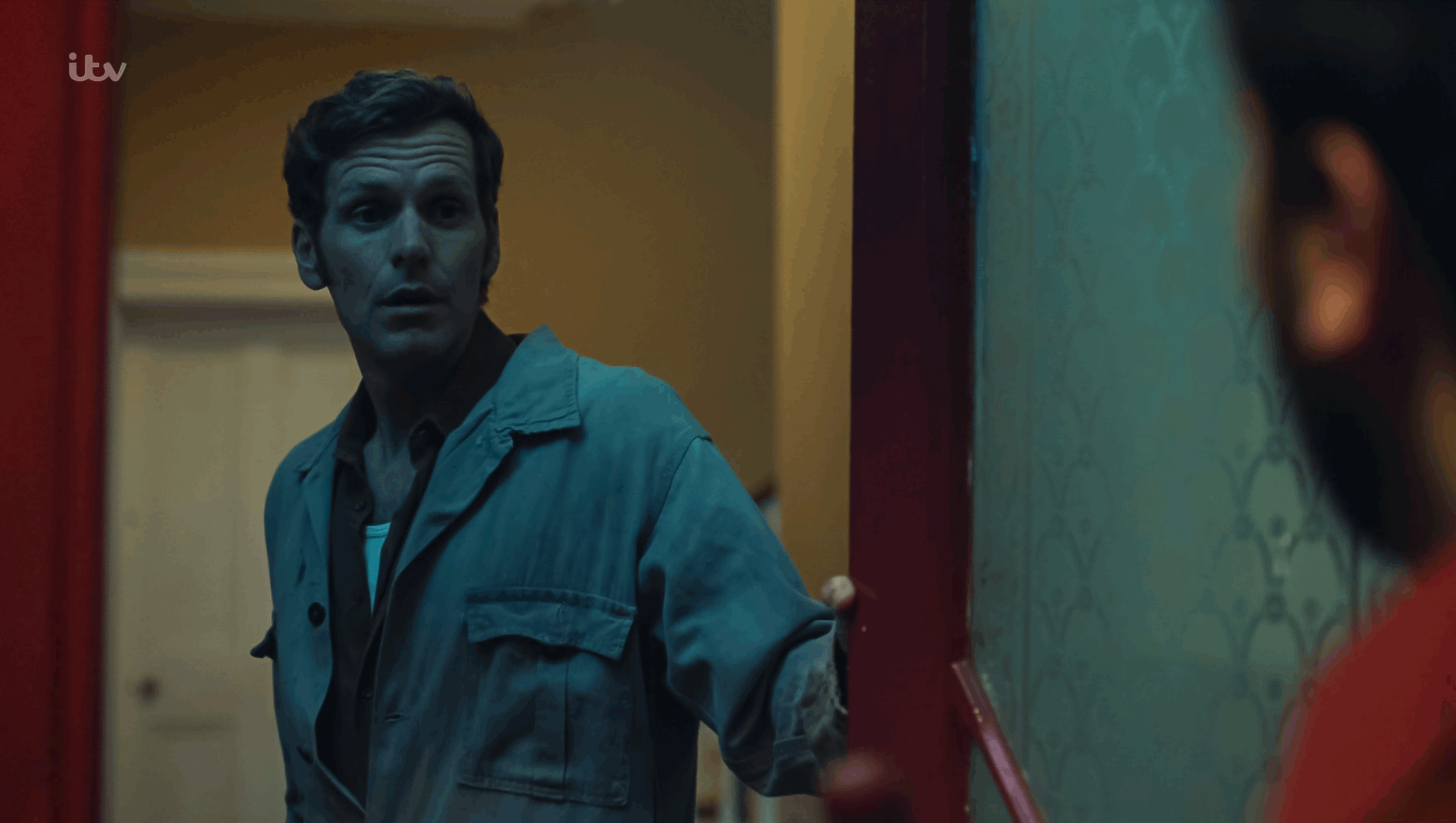 Ludo immediately, without asking for permission, dives into Endeavour's
sanctum sanctorum
- the record collection: another transgression. The first thing he fishes out of the crate is one of Endeavour's most prized possessions vinyl-wise - an extremely rare test pressing of a Rosalind Calloway record that never saw a proper release. Another bingo. Altogether too hastily, without so much as pausing for a breath, Endeavour offers the record to Ludo: "I haven't listened to it for years, I'd sooner it went to a good home". It's a display of affection, no doubt - but it's also about Endeavour covering his
divina
with a shield of apparent indifference, just like he once covered his ears to protect them from sound of an explosion.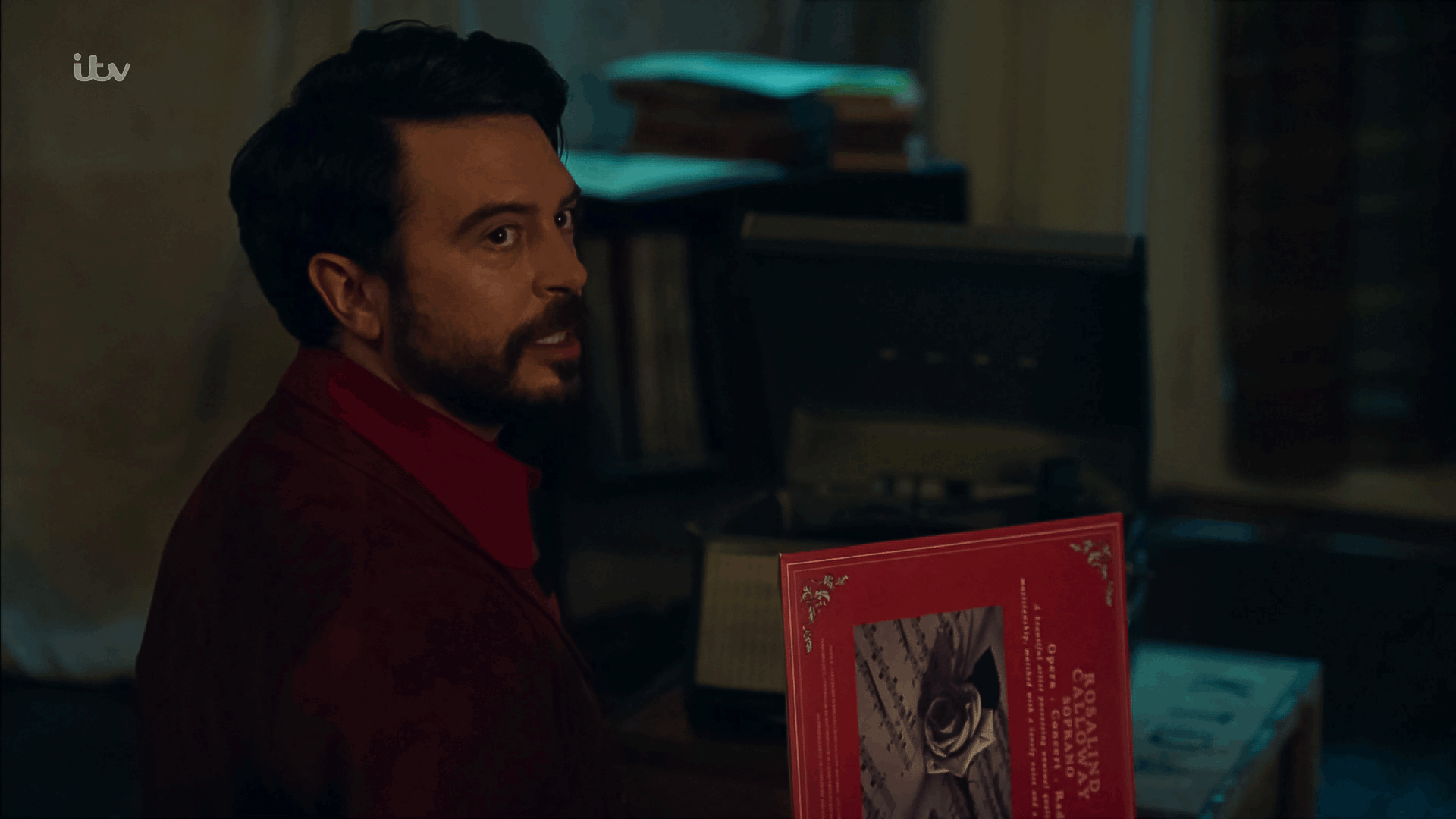 Endeavour has been careless enough to leave the towpath murder case files out; Ludo steals an interested look (or two) and immediately offers a childhood story to comment on one of the photographs. The story usefully illuminates the possible origin of marks on the victim's neck - a torn-away necklace - but is it why it's told? It hits Endeavour's pressure points so neatly, so precisely that it is hard to see it as anything but carefully designed fiction. Like all heartbreaking stories, especially those involving children and violent death, this one inspires a reverence that protects its veracity - as well as its narrator's intentions - from being challenged. When told by a tearful friend, it's even less suspect. Endeavour, eyes like saucers about to overflow, mumbles, "I can't imagine", but, like giving the record away so easily, it's a lie. He can, and does. It's about a boy who found his mother dead. It's about a young man whose wished-for kiss came as a frantic and futile resuscitation effort. It's about a policeman whose heart bears a scar for each act of senseless violence that he had witnessed. And it's about a man who would pay any price, even forfeit life, to protect his lover's gently beating carotid.
Assuming that the story is fake, it would certainly be a device to (surgically, almost) deepen and secure Endeavour's emotional attachment to Ludo - and, in case Ludo was in any way involved with the towpath murder, be an instance of psychopathic gloating.
A necklace, then, appears in the episode three times; in two of them its wearers are dead - violently killed, to be exact. The third is Violetta's.
...and the titular oracle? Isn't likely to be one. The nature of paranormal abilities, even if they're a subject of scientific studies, is so poorly defined and therefore so broad that they cannot be used for plot resolution, unless we've drifted into the genre of dark fantasy. Rats, ravens and cats notwithstanding, I don't assume we have; there will be a different - excruciatingly human - explanation. Morse has been giving her the benefit of a doubt, clearly assuming the revelations to be of a less-than-mystical nature - and good for him. However, her words hitting too close to
his weakness
- "There's a woman in a green dress. And there's just... a sadness." - might have thrown him into the whirlpool of emotion and impaired his thinking; there were
two
girls in a green dress, Endeavour. It might not be important, or mean much at all - yet there were two.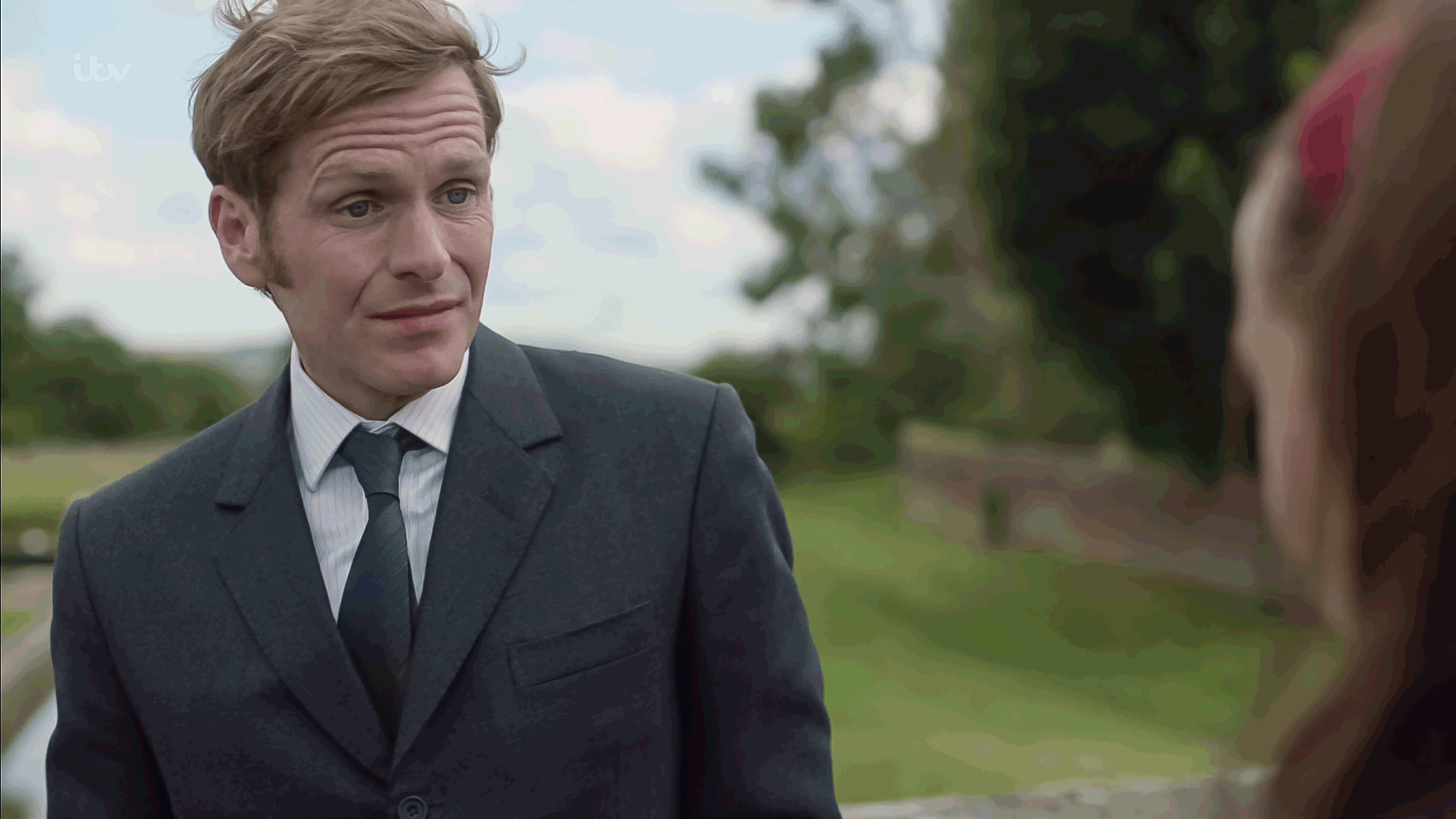 - Do not speak slightingly of the three-volume novel, Cecily. I wrote one myself in earlier days.
- Did you really, Miss Prism? How wonderfully clever you are! I hope it did not end happily? I don't like novels that end happily. They depress me so much.
Oscar Wilde, The Importance of Being Earnest
On to volume two, then!